Working on starting a consultancy business online? Have a product or an app that you want to sell online? If so, you're probably thinking the next step is to build a website. But building a website is not a one-day process. On the contrary, it takes time to create a website that looks great and works properly on all devices.
If only there was a way to build excitement around your new business before your launch. Well, that's exactly what a coming soon page can help you with. So, read on as we explain what a coming soon page is, how to quickly create yours, and tips to use it to attract prospects before the launch of your website.
What is a coming soon page and why you need one?
A coming soon page (also referred to as an "under construction" page) is a temporary page on your website that gives visitors a sneak peek at what's coming while helping you to build a list of early adopters who are interested in your offering.
Here's a simple example from Superlist, an upcoming team productivity app.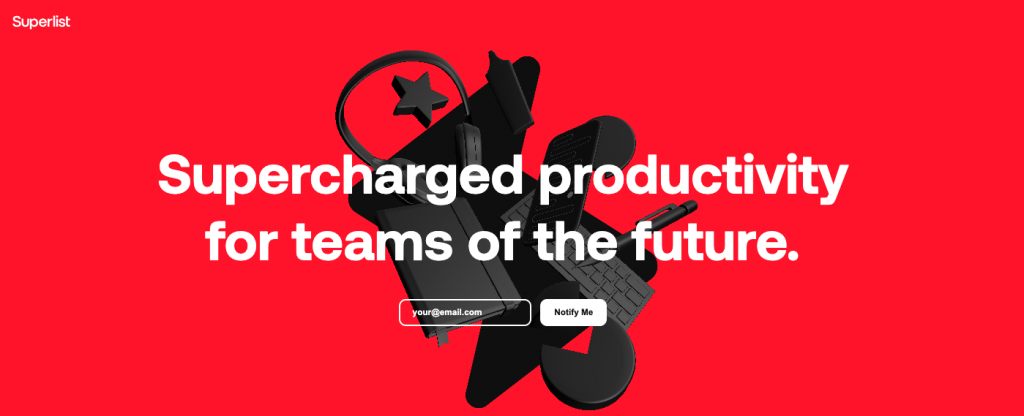 These types of temporary pages as great to use because you have the opportunity to kickstart your online promotion, spark interest, and attract leads while you're working to finalise building your product or website.
Here are some other reasons you should use a coming soon page:
To set expectations. There are lots of site owners that not only tell people when the website will be launched but also what to expect. So this is a great opportunity to introduce your business or product to potential customers.
To test your messaging. It's not easy to figure out the words to use to get people excited about your offer and to compel them to take action. So use this as an opportunity to test the words you're using to present your offer.
To generate leads. You can use your coming soon page to build an email list of interested prospects and communicate with them before, during, and after you launch your new business.
To get visibility in the search engines. You can get a head start on SEO (search engine optimisation) by optimising your one-page website with relevant keywords.
How to create an effective coming soon page
Since this is a single page and not an entire website, you can get your coming soon page online in less than a few hours. In fact, if you've bought a domain with 123 Reg, you can use our Website Builder Starter package to get your one-page site live and start generating leads today.
(If you don't yet have a domain registered with 123 Reg, you can search for a domain name here.)
To set up your one-page website, go to the domain management section in your 123 Reg control panel. Next, fill in some information about your industry, business, and website, and then decide how you'd like it to look. This post walks you through the three simple steps to setting up your one-page website with Website Builder Starter.
Just like with any product page or landing page, your coming soon page needs to include a few key elements to get people excited enough to sign up for your mailing list. These elements include:
A clear value proposition. What's the core benefit of your product or business and how is it going to help make a difference to people's lives?
A prominent and powerful call-to-action button. Learn more about creating persuasive calls-to-action.
A high-quality photo or video of yourself, your team, or your product.
Here's an example of a coming soon page from Haptic, an action-based journal app for iPhone, that has all of these elements.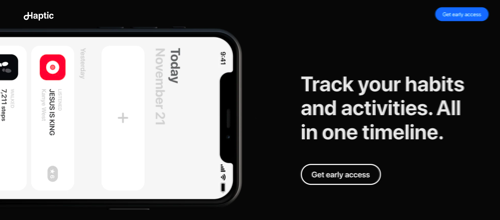 How to use it to market your new business
Here are the easiest and most effective ways to use a coming soon page to promote your new business.
Optimise it to gain visibility in the search engine results
A temporary page that's properly optimised for search engines can help you get a boost in the search results even before you launch your website. This allows your business to get found when potential customers are looking up similar products or businesses on Google. Even if you're not yet ready to sell, you can still let people know you're launching soon and maybe even get them to sign up to get notified when you do.
The key steps here are to add a meta description and a title tag that include relevant keywords. If you have images on your page, make sure to also add an alt tag for each image. The alt tag acts as a short description of an image and it can also be a great place to use your keywords and help increase your chances of showing up in image search results. You can find more information about each of these SEO elements in step 4 of this article about the SEO first steps for a new website.
Keep interested prospects in the loop
Most coming soon pages include a sign-up box that encourages visitors to leave their email address to get early access to the product, or other exclusive offers and information.
This is an effective technique to capture an audience of potential customers. So, not only do you build an email list of people who are interested in your offer but you can also use those emails to communicate with them before and after you launch your business.
It's a fantastic opportunity to keep in touch with prospects, build trust and a relationship as you tell them more about your upcoming business and how you can help them achieve their goals. It's also a good way to ensure people remember you when launch day rolls around.
To entice more visitors to join your email list, you can also try offering an incentive like early access to the product, free access for a month, early bird pricing, or exclusive discounts.
Encourage visitors to spread the word
If some people visiting your site like your business idea, the chances are their friends might too. So why not encourage them to share it with their friends via email or social media? Add some social and email sharing icons to make it easy for visitors to share your page with others.
Just like with the previous step, you can also offer some discounts, freebies, or rewards to encourage people to share your page with others.
Wrapping up
Not every business needs a coming soon page. But when you take a look at all the benefits of having one before launching a proper website, it might be worth a try. So, consider if a coming soon page is right for your new business as you prepare for the real deal.
The post Why (and how to) use a coming soon page to promote your new business appeared first on Better business online: Tips, insight and advice.
Disclosure of Material Connection: Some of the links in the post above may be "affiliate links." This means if you click on the link and purchase the item, I will receive an affiliate commission. Regardless, I only recommend products or services I believe will add value to my readers.